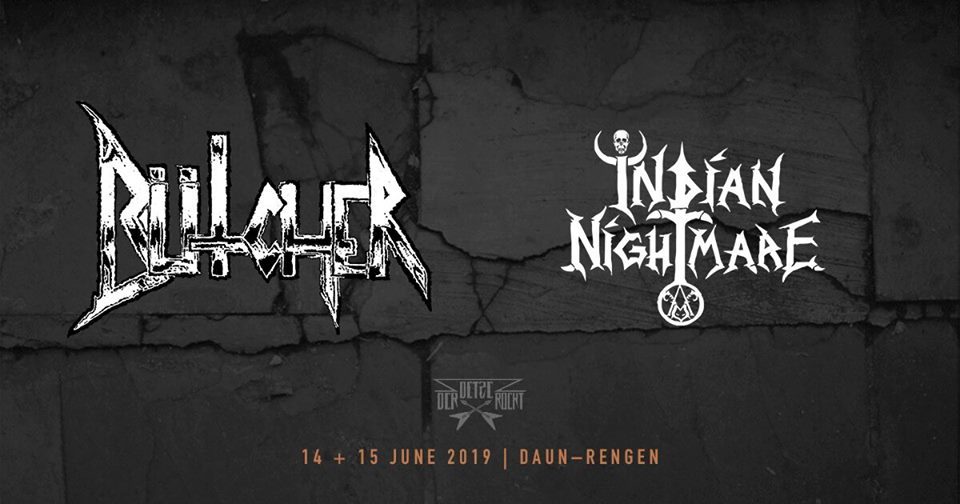 eng. below
Indian Nightmare
Was ein Gebräu! Indian Nightmare heißt der Kessel, in dem Venom, Sodom, D-Beat Punk und Spucke zu einer tödlichen Metalpunk-Suppe zusammengepanscht sind. Das Ganze wird mit dem brennenden Gesellschaftsvertrag zum Kochen gebracht und Dir direkt ins Gesicht serviert. Dieser Mucke hört man an, dass sie nur in der dritten Reihe einer Fäuste-schwingenden und langbehaarten Denim&Leather Collage zu wahrer Entfaltung kommt. Seid dabei!
Wenn auf Eurer Bedürfnispyramide nur 5 mal das Wort Blackthrash zu lesen ist seid ihr nicht nur komplett im Leben angekommen, sondern auch auf dem Detze genau richtig! Wir lassen nämlich extra für Euch den dunklen Speedmetal Berserker Bütcher von der Leine und ihr wisst ja, was in so einer Situation zu tun ist?
Sichert Euch Eure Tickets! Weitere Bestätigungen folgen in Kürze! Ein paar Klicks und das Wochenende ist safe. Tut es.
http://www.derdetzerockt.de/karten/
eng.
INDIAN NIGHTMARE
Behold this unholy vessel! Indian Nightmare is a cauldron filled with Venom, Sodom, D-Beat Punk and spit, beaten and stirred to a deadly soup of metal punk! Brought to the boil by the burning social contract and served directly in your face!
BÜTCHER
If your hierachy of needs only reads "blackthrash", you've got your shit sorted out and you're more than welcome at Detze this year, because we'll unleash the blackened speed metal berzerk Bütcher just for you!
Get your tickets right now! Further announcements will follow soon. A few clicks and you`re Detze weekend is safe. Do it.
http://www.derdetzerockt.de/karten/